T'Shar Nevek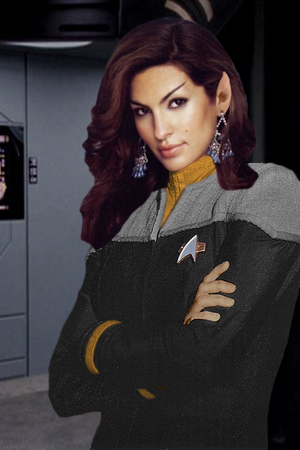 Basics
Name: T'Shar Nevek
Species: Romulan
Gender:Female
Date of Birth:
Age: 27 (human years)
Appearance
Height: 5 feet 10 inches
Eyes:Hazel
Hair:Dark Brown
Characteristic elements:
General: opinionated, self confident and tends to be a dominant character.
Backstory
Following an exchange assignment on DS9 and the Dominion War T'Shar has joined Starfleet and is looking forward to the new challenge.
Career
Enlisted or Officer?:Officer
Department preference 1:Flight Control
Department Preference 2:Operations
Sample Post
You have arrived at your newest assignment...
Walking slowly along the promenade T'Shar knew the eyes of the two Ferengi were on her, She was used to it by now, at least these two were subtler than Quark. She turned the corner and was crashed into by a red shirted officer coming the other way. "Why don't you look where you are going?" she snapped off before she saw the man's rank and stepped back "My apologies Sir, but if you had been..... " she let her voice fade as she recognised Captain Chakotay, the man she was due to report too.
"T'Shar Nevek reporting sir, I believe you are expecting me"
Behind the Mask
Have you done textbased RP before?:yes on 3 other sites
How did you find Aurora?:Originally via Jacob skyping me
Additional notes about yourself or your character?: I have written with several of you before (CG/NS/IJ)