|GAVIN VAN GELDER|
Basics
Name:  Gavin Hieronymus Van Gelder
Species:  Terran
Gender:  Male
Date of Birth:  April 30, 2357
Age:  21
Place of birth:  Hamilton, Ontario, Canada
Appearance
Height:  177.8 CM (5'10")
Weight:  79.4 kg (175 lbs)
Eyes:  Bluish-green
Hair:  Auburn
Characteristic elements:  Gavin has a rather boyish face, which he's considered trying to 'age up' via a beard or something…but then he realizes how ridiculous he'd look with one.
Family
Mother:  Danielle Marquise-Van Gelder
Father:  Doctor Marius Van Gelder
Siblings:  Iliza and Terise, sisters
Significant others:  Thelos th'Zela
Children:  None
Personality
Gavin is a very easy-going personality, known among his friends for his friendly demeanor and open ear.  He is a hard-working, dedicated medical professional, and a gifted and brilliant young mind.  He was often called a 'boy genius', and not always mockingly, though he knew that some were jealous of both his intellect, and his familial connections.  
He tends to make quick friends quite easily, but reserves his true, committed relationships to only a select few.  Gavin also finds himself easily attached romantically, though, again, he keeps  his cards close to the chest.  
Backstory
The name 'Van Gelder' was once revered in medical circles.  Gavin's great-grandfather, Dr. Simon Van Gelder, was one of the quadrant's most revered psychological minds, until he was subjected to the experiments of Dr. Tristan Adams on the Tantalus Colony.  Though restored to mental health, Van Gelder's reputation was hurt by the incident, and he felt his colleagues never truly saw him as the same man after that.
Time heals all wounds, or so the saying goes.  The Van Gelder family spent the generations after trying to restore their name, continuing in the research fields and becoming ambitious…almost to a fault.  Today, the Van Gelders are highly-placed in Starfleet, especially Starfleet Medical.
It was into this world that Gavin Van Gelder was born, the youngest son of the current generation.  High expectations were placed on all the children, but Gavin moreso than his two sisters, since he was the only one to go into the medical profession.
Gavin's mother was not in the profession, though.  She is a restorer of antique art, and has sought to develop her son's interest in those areas.  In fact, she was the one that suggested his middle name – Hieronymus – after an artist of Ancient Earth.  The meaning behind the name was to remind her son to keep his feet grounded in reality, but to always let his imagination have lease.

Van Gelder family:  Marius (father), Danielle (mother), Iliza and Terise (sisters)
He had a fairly happy childhood, all considered…though, sometimes, he found it difficult to tell who his real friends were, and who wanted to be near him for his family name.  It was these connections that placed Gavin where he is today – accelerating him past his senior year of Starfleet Academy with a new Ensign's commission, on a very special assignment for Starfleet Medical.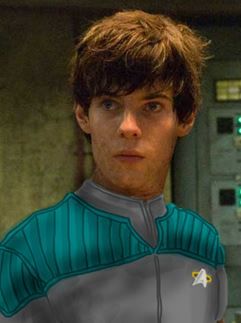 Cadet Van Gelder (2375)
Career
2378:  Cadet Cruise (waived)
2378:  Promotion to Ensign, USS
Phoenix