|Rael Ra-mandrii|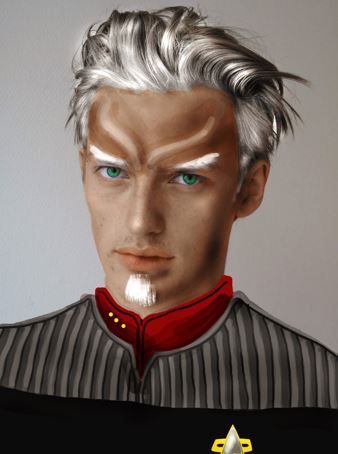 Basics
Name:  Rael Ra-mandrii
Species:  Efrosian
Gender:  Male
Date of Birth:  2348
Age:  31
Place of birth:  Kaelbair City, Efros Delta
Appearance
Height: 181 cm
Eyes:  Green
Hair:  Silvery White
Characteristic elements:  Like most Efrosians, Rael has orange-tan skin and light-colored hair.  He doesn't sport the traditional long mustaches, instead opting for a simple goatee.
General:
Family
Mothers:  Mandrii and Cenet
Father:  Unknown
Siblings:  Devros (brother), Saana (sister), Xiin (step-sister)
Significant others:
Children:
Personality
Efrosians are an outgoing, sometimes flirtatious species, and Rael is no exception.  He is a jovial person, and tends to get along with people.  He has a serious side, however, and it comes out mostly when he is focused on a problem.  Rael shares his people's great love of lore and oral tradition, and he has made it a habit to learn the cultural ways of those he comes in contact with.  In fact, it was one of the main things that drew him to Starfleet.
Backstory
Born on Efros Delta, Rael Ra-mandrii never knew his father, as is the case with many Efrosians.  His mother, Mandrii, joined families with her close friend, Cenet.  The two females found they enjoyed living together, thus becoming a couple.  Rael and his blood-sister Saana thus became step-siblings to Xiin, daughter of Cenet.
Rael spent most of his childhood like many Efrosians – exploring ice caverns, participating in exhilarating sports such as climbing, running, and flirting.  He also learned by heart the ways and legends of his people.
Since Efrosians have no written language, Rael had to take remedial courses before attempting his Starfleet Academy entrance exam.  With that out of the way, he barely passed in the bottom quarter.  This jolted him to reality, letting Rael know that it was something to take extremely seriously.  As a result, his first two years were spent studiously, with very little of the flirtatious nature that Efrosians were often known for.  He did manage to loosen up quite a bit as an upperclassman.
Rael graduated with the Class of '69, staying on with the USS
Madrid
, a
Centaur
-class cruiser that saw action in the tentative environment left by Cardassia's removal from Bajor, and the ever-precarious relations with the Romulan Empire.  The young officer quickly gained noticed as the Ordnance Officer, raising phaser control and efficiency among his peers by 7% in his first year.  
Eventually, a position in Flight Control came open on the USS
Intrepid
, the pathfinder vessel for that same class.  The Efrosian had always loved both technology and flying, so the fit was natural.  Rael stayed on with the Intrepid, serving with distinction throughout the Dominion War.  
At the war's conclusion, Rael was given promotion for meritorious service to Lieutenant Commander, giving him his first taste of the command division.  His captain recommended him for a Chief Flight Control spot on the
Galaxy
-class USS
Sentinel
, and Rael quickly became the Second Officer of the ship.  On the Sentinel, he assisted the rest of Starfleet in picking up the pieces after the war, trying to keep the quadrant's powers from creating and filling vacuums, and watching the ever-headache-inducing Romulan Star Empire.
Career
2365 – Passed basic secondary schooling, takes SFA entrance exam
2369 – Cadet cruise - USS
Madrid
2369 – Graduation, commissioned ensign - USS
Madrid
(Ordnance officer)
2371 – Lieutenant JG – transfer USS
Intrepid
(Flight Control)
2372 – Lieutenant
2376 – Lt. Commander – transfer USS
Sentinel
(CFCO/Second Officer)
2379 – First Officer - USS
Phoenix