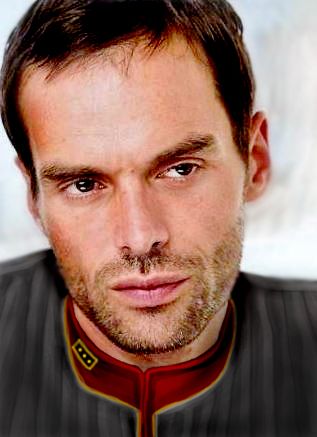 Basics
Name:  Corman Anthony Stark
Species:  Human
Gender:  Male
Place of Birth:  Germantown, Maryland, Earth
Date of Birth:  Earth Standard - November 20, 2327
Age:  51
Appearance
Height:  1.86 meters
Eyes:  Dark grey
Hair:  Salt-and-pepper black
Characteristic elements:  Corman is wiry and quick, and tends to wear a stubbly beard.
Family
Mother:  MCPO Muriale Stark (Ret.)
Father:  Commodore Benjamin Stark (Ret.)
Siblings:  Commander Andrea Stark
Significant others:  None
Children:  Conor Terrell (age 21)
Personality
Corman was born to dare the stars.  He comes from an old Starfleet family, with Starks having served going all the way back to the days of UESPA.  He is a reserved man, speaking with a quiet tone that makes others listen.  He does have a very robust sense of humor that sometimes can be a bit dry and cutting.  Corman can be stubborn, but is also willing to listen to logic and reason…when it doesn't get in the way too much.  Owing to the action he's seen in both the Dominion War and the earlier Cardassian War, he does not like or trust Cardassians.
Backstory
It seems as if there has always been a Stark in space. 
Corman started on Earth, however  - born in Germantown, Maryland to Ben and Muriale Stark.  His parents were ranking Starfleet officials themselves, as were his grandparents, and so on…needless to say, expectations were high for both he and his sister, Andrea, to follow in the family tradition.
Following his completion of secondary schooling, it seemed natural that he enter Starfleet Academy.  Corman did just that, passing the entry exams, but barely.  This told him that he needed to buckle down and study more, lest he suffer the embarrassment of failure.  He had a hell of a lot of fun at the Academy, however, and was quite a notorious prankster, along with trying to drink San Francisco dry. 
Starfleet
Graduation came in 2348, and along with it a final cadet cruise on the USS
Lantree
, an aging Miranda-class vessel that Corman thought belonged in the Fleet museum and not in space.  Nevertheless, she was a good ship, and he served on it until 2356.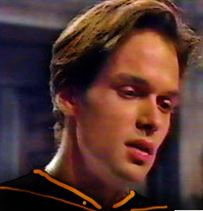 Ensign Stark, USS
Lantree
By then, Lt. Stark was re-assigned to the USS
Tucker
, an
Ambassador
-class under Captain Raleigh Hale – a flinty space-hand that Corman got along with very well.  In Captain Hale, he found a secondary father figure.  Encouraged by their good relationship, Hale put then-Lt. Commander Stark on his short list to watch should a senior leadership position come open.  That spot did open up in 2364, and Commander Stark was made First Officer.
All told, Corman served on the Tucker from 2356 to 2366, and became close family with many of his crewmates.  The ship saw action in both the Tzenkethi conflict and the Cardassian War.  He also began an intense relationship with Alysandra Terrell, a civilian Archaeologist attached to the ship for a while.  It burned hot and fast, but left her pregnant with the couple's son, Conor.  The boy lives on Earth with his mother, and Corman has very little contact with him (at his re-married mother's request).
Captain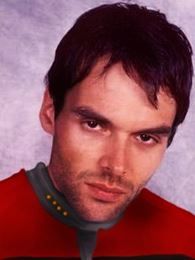 Captain Stark, USS
Tuscarora
(2371)
Eventually, it was time to move on, as much as he loved his family on the
Tucker
.  Corman was offered his own captaincy in 2367, which he readily accepted.  The ship was the
New Orleans
-class USS
Tuscarora
, which seemed to see ceaseless conflict, beginning with almost being lost to the Borg.  The ship saw continued action throughout the Dominion War, where she served with distinction.
With the cessation of hostilities with the Dominion, Corman now finds himself with a new challenge to battle – a desk job.  It was a war hero's promotion for service well rendered…but Corman can't help but wonder if he made a mistake by accepting it.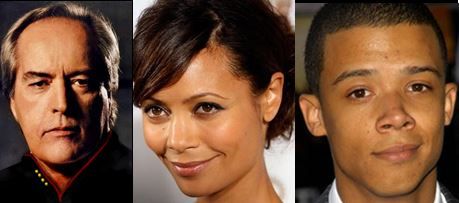 Captain Raleigh Hale, Dr. Alysandra Terrell, Conor Terrell
Career
2348 – Cadet Cruise (USS
Lantree
), promoted Ensign.
2351 – Promotion – Lieutenant (JG), sec/tac officer.
2352 – Promotion – Full Lieutenant
2356 – Assigned USS
Tucker
2357 – Promotion – Lieutenant Commander
2360 – Promotion – Commander
2364 – First Officer (USS
Tucker
)
2367 – Promotion – Captain (USS
Tuscarora
)
2378 – Promotion – Rear Admiral (LH)