|John Harriman|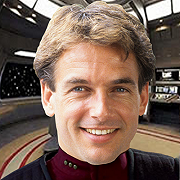 Basics
Name: John Harriman
Species: Human
Gender: Male
Date of Birth: 9-23-2351
Age:30
Appearance
Height: 6'2"
Eyes: blue
Hair: Blondish Gray
Characteristic  elements: John is an outgoing person, he is respectful and fair.
General: He has a great sense duty, he will follow orders but protecting the crew is his main priority.
Backstory
John was born to Master Chief Jack & Chief Renée Harriman on the 23th of September, 2356, in the Sick-bay aboard the starship U.S.S. Arthur. Renée was the Transporter Chief and Jack was Master at Arms they were married a few years before on Leave on Earth. John was a good kid and wanted to be like his dad, his dad told him that if wanted to join Starfleet that he should become an officer. So he started reading the missions and biographies of a few Starship Security Chiefs such as Lieutenant Malcolm Reed, Lieutenant Pavel Chekov, Lieutenant Natasha Yar, Lieutenant Commander Worf, Lieutenant Commander Tuvok, and Constable Odo. John had a very active life growing up, his mom and dad were transferred to Starbase 28 because they had to have some training but after one year there they went back to the Arthur but he kept up his studies.
John was a hard worker and did everything on time he was never late for any class he had that he could remember. He loved to read, play chess and run. In his spare time he would go to the Holodeck when he could, to run races so he could get better as well as fencing with the Musketeers. Growing up he was able to go to his Aunt and Uncle's house on Earth to spend time with them, and his cousins Jacob and Buck. He was able to stay there as long as he wished because he could go to school there and on the Arthur. He graduated from high school in 2374 with an Academic Honors Diploma and 3rd in his class. He went to Earth because he had gotten into Harvard Law School and got his Masters in Criminal Law and a Masters in Law Enforcement as well as a Bachelor in Sociology he graduated in 2378, 5th in his class. He left the campus of Harvard and went straight to San Francisco to apply to the academy to become a security officer.
Career
Enlisted or Officer?: Officer
Department preference 1: Security
Department Preference 2: Operations
Sample Post
You have arrived at your newest assignment...
[U.S.S. Phoenix Security Office]
John had just graduated the academy and was assigned to the U.S.S. Phoenix as a security officer. He walked into the Security office and over to the Security Chief. He stood at attention and spoke.
"Ensign Harriman reporting as ordered Sir." He said looking at his DH.
The man looked up from the desk and nodded, setting down the PADD he was looking at.
"Welcome to the Phoenix Mr. Harriman, you will be on Alpha shift with me so I can watch you. I have looked over you record it shows that you served as a Senior Chief Petty Officer for 3 years before you applied to the academy, why did you wait so long to become and officer."
John gave a slight grin and answered. "Well Sir, I wanted to be able to look at the enlisted men and say I have been where you are and you are doing great and mean it."
"Well that is a good way to be your father must be proud, I served with him before he met your mother."
"It is good to know that because that makes me trust you judgment ten times more than I did."
The commander smiled. "I am glad to hear it, stow your gear and, meet me on the Bridge in two hours. Dismissed."
Behind the Mask
Have you done text based RP before?: Yes
How did you find Aurora?: Archangel
Additional notes about yourself or your character?: I have been  RPing for almost three years